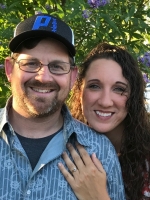 Directors of Student Ministries
Shaun and Raychel are the Directors of Students on staff working with youth at FBCG. They have been married since Sept 2000 and have 3 children; Wesley, Gracie, and Tristan. They have been serving in ministry since 2009, Shaun as an ordained deacon and both of them working with children's ministries, youth ministries, couples and family ministries both of them having felt the call of the Lord and surrendered to the ministry. Their goal is to love the Lord, obey His commands, and serve the Lord obediently in any way He directs them which is currently investing in students and family, leading them to Christ and discipling them so they can in turn lead others to Christ and disciple as well.
Shaun is also the Deck Plant supervisor at Nucor Vulcraft, certified welding inspector, firearms instructor and serves on the board of directors for Grapeland Area Chamber of Commerce. He was born and raised in Grapeland, TX and is passionate about the people of this community and being the hands and feet of Christ to them. Having surrendered to the call of ministry he is currently pursuing his Master of Divinity from Southwestern Baptist Theological Seminary.
Raychel was born in Louisiana on an Airforce base and moved around until her family settled in Texas after retiring from the military. She married Shaun in 2000 after graduating from Rusk High school and has always told people her home was "the road" until now, she has embraced this community and is equally as passionate about being the hands of feet of Christ to it's people. Raychel received her Bachelors degree in Agriculture and Forestry from Stephen F. Austin State University and is currently working on her Masters in Theological studies also at Southwestern Baptist Theological Seminary. She owns East Texas Firearms & Training and is a firearms instructor and former sponsored competitive 3Gun shooter, she also serves on the board of directors for Grapeland Area Chamber of Commerce and homeschools their 3 children.