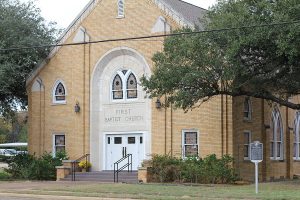 Established as a congregation in 1891, First Baptist Church Grapeland has been an integral part of our community since that time.
We are a family-focused, Christ-centered, and Bible-teaching body of believers. With weekly services and ministry outreaches, we seek to be a church that ministers unselfishly to persons in our community and the world in Jesus' name. Our purpose is to bring people in to a meaningful relationship with God and equip them to follow Christ in their daily lives.
Statement of Faith
The Holy Bible is the inspired word of God and is the basis for any statement of faith. We subscribe to the doctrinal statement of the "The Baptist Faith and Message" adopted by the Southern Baptist Convention of 2000. We band ourselves together as a body of baptized believers in Jesus Christ personally committed to sharing the good news of salvation to a lost mankind and discipling and teaching believers. The ordinances of our church are baptism and the Lord's Supper.